"Capturing sacred moments in sculpture of wood or bronze."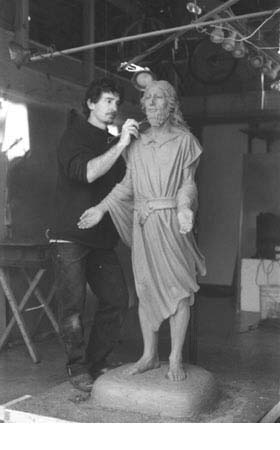 Troy Williams is a gifted and dedicated sculptor. He has studied in the United States and Europe and his work can be found in private collections around the world. A full-time sculptor since the early eighties, Troy feels his most valuable education has come from the experience of sculpting.
The subject of his sculpture ranges from inspiring liturgical works to more abstract sculpture representing moments or beings expressed in human form. Troy has a wide variety of styles which range from the classical representational figures, to more stylized figures with suggestive lines and sweeping movement. Although his work ranges in style and subject, they all carry a figurative theme reflecting our deepest nature.
His most recent work may be found here and at Glenn Green Galleries.
For more information about his sculpture, please feel free to contact Troy directly.