The commission process starts with a discussion between artist and client to determine the extent of the project. Through discussion and exchange of ideas Troy will then create a maquette of clay, which is a model of the proposed final piece.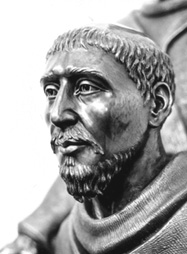 At this point all parties discuss any changes that need to be made. Once the maquette is to the satisfaction of artist and client, work begins on the final sculpture in the requested medium, typically wood or bronze. See examples below.
The final model may be an enlargement of the maquette, or just a refinement of the original maquette to create a finished maquette in clay. If casting in bronze, a mold is made from the finished model which is then used for the casting process. The final piece may also be carved in wood using the finished maquette as the model.
Through this process of dialogue between artist and client, the vision of both can be realized. If you would like to discuss the commission a sculpture, please contact Troy directly.